Technician.Academy Podcasts
Our Award Winning podcast series focuses on the automotive industry and how it's impacting the technicians of today and tomorrow. Hosted by ASE Certified Master Technician Richard Young and featuring experts from across the automotive industry including instructors, shop owners, manufacturers, and technicians. Download a new podcast bi-monthly and expand your knowledge.
Be sure to subscribe to Technician.Academy's podcasts available on iTunes, Google Play, or Stitcher.
You may also listen to a podcast below from your desktop.
Episode #45 with Bruce McDowell – Understanding that Technology and Change is Here
In Episode #45 of Technician.Academy's podcast series, guest Bruce McDowell discusses changes in the automotive repair industry and what his contributions to the Technician.Academy blog have been. McDowell is an ASE Certified Service Advisor for Garber Diesel Service in Versailles, MO. He is the featured author of Technician.Academy's Service Adviser Desk that assists service advisors, and he is also working on a featured 10-part blog series called "Not Your Grandfather's Garage". In the podcast, host Shawn Collins and McDowell talk about the idea of perception is reality, the potential negative reputation of the automotive industry, automotive industry innovations, and more. Tune in now to hear from Bruce McDowell.
Episode #44 with Jaxen Stewart – Winning the 2018 Automotive Technology Outstanding Student Award
Episode #44 of Technician.Academy's podcast series provides an energetic discussion with the 2018 Automotive Technology Outstanding Student award recipient, Jaxen Stewart. Stewart is in his third year at Pittsburgh State University. He grew up immersed in the automotive repair industry since his grandfather owned a NAPA store, and he started working there at a very young age, alongside his father and grandfather. The podcast highlights Stewart's passion for the automotive industry, his opinions on what value the trained technician brings to the table, as well as his goals and expectations for the future of the industry. Tune in now.
Episode #43 with Chris Chesney – Showing Future Automotive Professionals a Career Path
Episode #43 of Technician.Academy's podcast delivers a rich conversation with technical training expert Chris Chesney. Chesney is the Senior Director of Customer Training for CARQUEST Technical Institute (CTI) and Advance Professional as well as a contributor to MotorAge Magazine. Chesney discusses one of his recent articles he wrote for MotorAge—"Implementing a Mentorship Model in Your Business"—as well as the value of showing future automotive technicians a career path. The podcast also provides a sneak peek into a forthcoming project that Chesney is closely involved with called Pathways in Technology Early College High School, a new type of school that brings together the best elements of high school, college, and the professional world. Tune in now.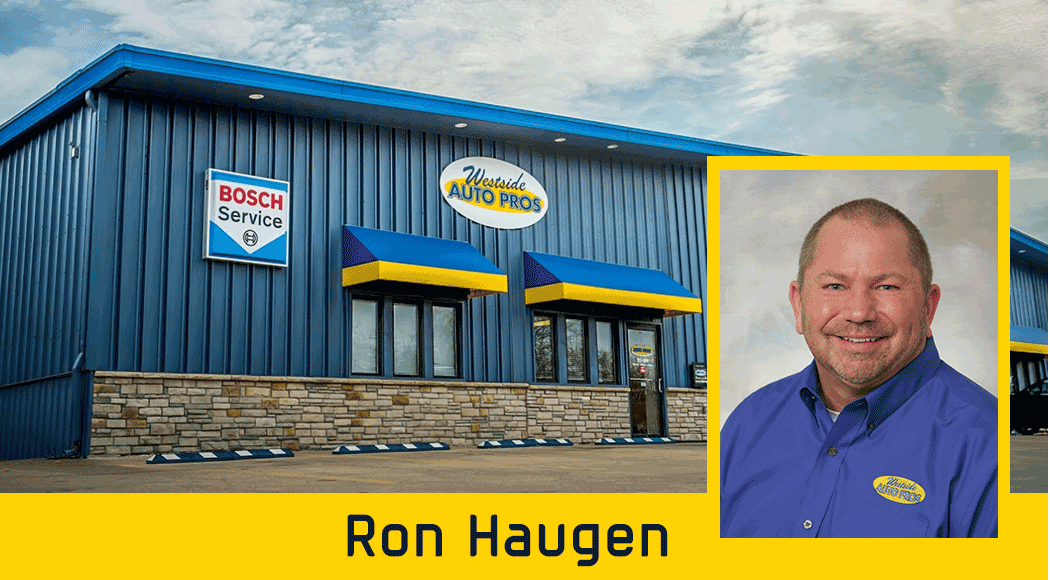 Episode #42 with Ron Haugen – The Value of Exceptional Employees
Episode #42 of Technician.Academy's podcast series provides an in-depth discussion with automotive industry expert Ron Haugen. Haugen is the owner of the 14-bay facility Westside Auto Pros in Des Moines, IA, a shop recently honored by Ratchet+Wrench for being one of the top 20 repair facilities in the country. In the podcast, Haugen discusses the value of having exceptional employees and how important it is to take care of your customers. He also discusses his shop's history and what the future may hold for both Haugen and Westside Auto Pros. Tune in now.
Episode #41 with Megan Meyer – Carving a Path of Success
In Episode #41 of Technician.Academy's podcast series, Top Alcohol driver Megan Meyer of Randy Meyer Racing and Megan Meyer Racing hops on the mic to talk about her team's success in 2018 and what can be expected for the 2019 season. Megan Meyer also discusses the Respect is Learned© In The Pits contest that Technician.Academy and Randy Meyer Racing have put on in 2017 and again in 2018, with the help of MotoRad America. Megan talks about the 2018 contest winner and what he can expect to experience at the Chevrolet Performance U.S. Nationals on September 1-3, 2018. Tune in now to hear more about the drag team's successes and future opportunities.
Episode #40 with Donny Seyfer – The Importance of Utilizing Correct Methods to Educate Tomorrow's Leaders
Episode #40 of Technician.Academy's podcast series provides an expansive discussion with automotive industry expert Donny Seyfer. Seyfer is a contributing editor to Babcox Publications and a contributor to Autobody Repair News, MotorAGE, and AutoInc. Magazine. Seyfer is also a co-owner of Seyfer Automotive Inc. in Wheat Ridge, Colorado and is an integral member of multiple automotive boards and foundations, including the National Automotive Technician's Education Foundation (NATEF) Board of Governors and the National Automotive Service Task Force (NASTF). The podcast provides a lot of insight into Seyfer's involvement in the industry and the need for automotive education programs that focus on the strengths of tactile learners. Seyfer also discusses how important it is to show future technicians a career path. Tune in now.
Episode #39 with Jeff Buckley – If Your Shop is Successful, Are You Giving Back?
In episode #39 of Technician.Academy's podcast series, shop owner Jeff Buckley discusses training and how the automotive repair industry is represented in society. Buckley owns My Father's Shop Certified Automotive Repair in Midlothian, Texas. He is an active member in community organizations and has been instrumental in connecting prospective employees at the high school level with skilled trade industries in the area. Buckley may be the only technician working at his shop, but he understands the value of having trained technicians in the bay and how important it is to recruit quality employees. Tune in now to hear more.
Episode #38 with John Gardner – The Need to Adapt and Change
Episode #38 of Technician.Academy's podcast series delivers an intelligent discussion with John Gardner, host of Tech Garage and Motorhead Garage. On top of hosting the two Velocity channel programs and Advance Auto Parts Automotive System Training, Gardner is an automotive instructor at Chipola College in Marianna, FL. Gardner and Technician.Academy host Richard Young discuss how differently students learn today than they had even five years ago and how the automotive industry will have to adapt and change in order to attract new talent. Tune in now to learn more about Chipola College, the two TV programs Gardner hosts, and what Gardner thinks the future of the automotive repair industry will hold.
Transcription - Episode 38
Richard Young:   
Welcome to today's Technician.Academy podcast. We're fortunate enough to have John Gardner with us. He's an automotive instructor at Chipola College. He's also a television personality for Motorhead Garage and Tech Garage. Welcome, John.
John Gardner: 
Hey, thanks for having me, Richard. This is awesome. It's going to be a lot of fun. We got some cool topics to cover, and first of all I'll just introduce myself. Yep, you hit it right on the head. I got a few jobs. My name's John Gardner. I'm an automotive instructor at Chipola College, that's a small college there in Marianna, Florida, in the panhandle. And then I also got two other jobs. I host Tech Garage and Motorhead Garage on Velocity. So they come on in the morning, at 8:30 on Sundays, so if I'm not teaching, I'm flying around shooting some of the shows. We do some training with some aftermarket and some … We just keep busy. It's a lot of fun.
Richard Young:      
Yeah, I know you have fun. I had the fortunality to be with you on scene, on site a few years back and it's definitely a professional production. And if it isn't, if no one, if anyone out there hasn't seen it, they definitely need to tune in and see it or DVR it and catch it later. I mean you guys bring out some great topics.
So John, how long have you been at Chipola College?
John Gardner:  
I actually started here in 2000, and when I started back in 2000, they just had an automotive program and they had shut it down for a few years because it was a hobby shop, you know? And they're kind of a paradigm shift with automotive. They trying to just start to get towards the industry and industry standards, so.
I taught in south Florida for a little while down there. I was actually a technician at a GM dealer. I went through ASEP, Automotive Service Excellence Program, and I graduated from that as a technician. Went to work at a GM dealership and worked there for about 12 years, 13 years. And taught some night classes in between and here and there and just fell in love with teaching. So I taught at the technical school down there for about seven years and then moved up here to the college and just kind of conned them into opening a program. You know, "Let's open it back up. Let's give it a go."
It's a small, five-county area. I didn't, really wasn't sure if it was going to make it or not because of the student count, population here is not too great. And sure enough, we started with about eight students in 2000 and now we're up to about 25 students per term. And it's crazy, it just grew and grew and grew. I guess if you build it, they'll come.
We use a lot of the new technology. We got a lot of corporate sponsors, a lot of industry partners that come into the program here. And ended up running a model program for the state, so it's, we're real fortunate. We got an awesome college here and a lot of administration support, and more importantly, a lot of industry [inaudible 00:02:42] like yourself and everybody else out there.
Richard Young:  
Yeah, I've been fortunate enough to be there to the college, and definitely, you guys are cutting-edge as far as having the equipment there to train the student. So I commend you on that. And that's not a small step. I mean, that's a lot of investment by the college and by the administration to do that.
John Gardner: 
It is, it is. They put a lot of equipment in here. And the key is just industry partners. I mean, you work out there in the industry and when they start getting involved … I mean, we do training for Gates, Advance Auto Parts, you know, a lot of big companies we would do some trainings for and some videos for and this and that. Once we started to get the industry support and kind of took a different look at education, I think a lot of schools are today and where they're starting to get that industry partnership into the school. And years ago that was like, "Oh, we couldn't mix education and industry", and now it's like, "We have to mix industry and education to survive."
So it's a good partnership. And like, you know, you've been here and you did a great job on the show. It was a lot of fun. But yeah, it takes a lot to run a program, you know, especially when you're a NATEF certified program and an ASE program and you're putting out graduates. I mean that's the whole thing, there's 25 students enrolled and our graduation rate … I mean, our jobs are 100% placement and it's crazy out there. I mean, that technician shortage. I know we'll talk about that a little while, but it's just, it's nuts.
I got five jobs, Richard, sitting here on my desk I can't fill. I can't get these students to complete the whole program. They're usually leaving with 180 hours left in the program and doing a co-op and going out there to get to work. So it worked out pretty good. And we're serving five counties, but we also reach out a little bit to Alabama and Tallahassee, Panama City. So where we're at, our students will travel 100, 200 miles and go get some work and it's not unheard of for them just to up and move and get a job. But it's, jobs are out there and we don't have any problem placing them.
Richard Young: 
Well that's great. I mean, with the education, a solid … I mean, do you find that those technicians, those young technicians that's leaving your facility, do you find that they're moving into dealerships or independent repair facilities, which one?
John Gardner: 
Yeah, all over. Goodness, we got, you know, we have people come in from waste management fleets, sheriff's department fleets. Then they go into the dealers here locally, dealers all around the country, and independent shops. So I mean there's really no set-in-stone place where they're going to go. And it's almost to the point now where they come in here, they sit down when they're getting ready to graduate, most of them have four, five, six, ASE's by that point and it's like, "What do you want to do?" And we just make a phone call to the dealer, their preference of a dealer, and nine times out of ten, the dealer's like, "Send them down", or shop, "Send them down. Let's talk to them."
We put them out there, give them some co-op, let them work for a little while out there. Make sure that you got a good relationship and good rapport between the shops. And after two or three or weeks, almost nine times out of ten they'll just hire them right then and there. They're like, "Great", no matter what." So I guess that technicians shortage thing is real.
Richard Young: 
Well, and that's … I do have one question. I mean, you talk about five counties, is the counties, do they have an automotive program at the high school level that's feeding into your college?
John Gardner:   
You know, they actually don't. We don't have one here, but where I taught in south Florida, yeah, there was a bunch of high school level programs that would feed into it as well. But most technical schools will work that way, but no, we don't even have one here. So these are mostly just either kids that graduated. Now they'll do some dual-enrolled, the high schools. There's six or seven different high schools around here that'll allow them to come over and dual-enroll in their senior year when they have some credits. So that gives them a jumpstart, an advantage, you know?
And there's a huge paradigm shift in the high school and the thought process. I mean, they used to, it was a four-year degree and that's about all you could do. You know, they wouldn't even look at these kids. And now they're like, "Well wait a minute. I mean, these guys are making 50, 60, 70,000 dollars after five or six years. Maybe this a good career. Maybe this is a good path." So maybe if we get in with the counselors now and start talking and they listen.
Richard Young:            
Yeah, I mean … And I'm starting to see that. I mean, it's good to hear that automotive is becoming, or the skilled trades, I mean, we can group all those skilled trades together. I think automotive is kind of unique because it incorporates a lot of those heating and air, hydraulics and electrical, which is kind of unique.
But it's good to see that the high school programs are starting to recognize that and realize that, "Hey, this is good avenue for our students to take." So that's great. That's great. So yeah-
John Gardner:       
Yeah, I think it's phenomenal.
Richard Young:
Yeah. I mean, you'd mentioned the shortage of technicians. And I make this comment, and I want your opinion on it, I don't believe there's a shortage of people able to turn a wrench. But I believe there is a shortage of qualified technicians able to diagnose and repair vehicles.
John Gardner:
Boy, that's … You probably couldn't have said it any better. I mean, that's … You know, anybody can carry in, and that's what these shop owners, that's what our advisory boards when they come in here, that's what they're looking for. It's amazing. I mean, they don't want the guy that can come in and just turn wrenches. I mean, they want the diagnostic thought process. They want ethics. I mean, logistics alone, can you get them to [inaudible 00:08:01], can they come to work on time?
There's such a diversity and there's a such a disconnect between the different generations that are coming out today and some of the shop owners out there. So you know, that's the thing. There's probably not a shortage of people that wanting to do it, it's just a shortage as far as old dogs like me getting out of there. I mean, I'm 50-something years old, so heck, I don't want to turn the wrenches anymore.
And then these kids, they just, they've been pushed for years on this four-year degree thing and they're missing the whole boat. And it doesn't mean that they're not as bright as any four-year degree kids. They're just as bright, if not even brighter. But the point is, is that they just want to do something they love. They want to use their hands. And then they come into the program. It's amazing, Richard, what they can do here. I mean, with the technology and stuff. And they're so sharp. It's amazing the cars that they can fix and their diagnostic thought process and how they go about it, it's just, it amazes me every day.
Because I mean, we'll look at some problems, you know, me and you will look at it, maybe some old school problems and technicians, we may look at it a different way. And they just have so many different resources and so many different avenues to look and come up with a diagnostic plan or just test in different ways and go, "Wow." You just sit back and you go, "I can't believe this kid's sitting here doing this." It's amazing.
But they are, they're brilliant and they do a good job, but it's hard to get them out there. Like you said, it's hard to get them into school and get them pointed in that direction and overcome that stereotype of a technician versus a four-year degree over here for nursing or whatever, accounting. It's the parents.
Richard Young: 
So kind of on that topic, that subject, what do you think the hold-up or the drawback that the parents or the students see in entering into the automotive industry?
John Gardner:   
Yeah, it's just … Well it's changing now. It's getting much, much better. The 20 years I've been here, the last three or four years, you're staring to see a push with everything you see, the micro thing and everything going on with this industry. And we need people to turn wrenches, we need people just down there at the ground level doing this stuff. And the high schools are coming around.
I think it's a shift in the counselor's thought process, of it's not just, "Oh, this kid's not making it. Let's put him in the auto program." It's like, "Let's give them career choices right off the bat and look at what they want to do." I mean, some people don't want to sit in a cubicle and write notes and papers all day. Maybe they do want to use their hands and get out there. And it might be the brightest kid in the class. It doesn't make any difference, because when he gets out there, he's going to turn wrenches for seven years, end up being a service director and this guy's making 100 grand a year.
So it's just a matter of just getting in there early, getting in these educational systems early, even in the middle school, and just showing them what our industry's all about and what this career's all about, how much it has changed, how much technical it is.
Richard Young:
Yeah. I mean, and it has made, I think it is making a shift. I think it's a little slow. Probably should've been trying to shift it five, six years ago. But yeah, I think you're right. I think that the high school instructors are starting to see the value of this industry and the skilled trades in general, and begin to guide those students into a career. I don't know what the exact cost for a student to go through your two-year program, but you know, when they leave there, if they've followed all the NATEF guidelines, would you agree that they're a low-techie or maybe a middle-level techie?
John Gardner:
Well I wouldn't, I mean, I'm not going to bash them, but we have, we can give them a lot of the ethics. We can give them a lot of the wrench skills. We can give them a lot of this stuff. But what we can't give them is just that hands-on experience. I mean, there's no substitute for that. So if you're a shop owner and you're listening, they have the problem-solving skills. They can do all this stuff. But boy, they just need time. I mean, they're going to be entry-level techs.
I always tell my advisory board members, I say, "They're going to change oil, light line, alternator, starters, batteries, electrical, they have all that knowledge in their head, that's wonderful. But they're just light line technicians when they come out. That's where they're going to start. But the difference between them and somebody carrying in a toolbox is three or four years down the road. Three or four years down the road, the one that comes out of the technical school is going to excel and just, man, he'll be your drivability tech because he has the stuff, he has this background, he has electrical background, he has the engine performance background. It's in the back of his head, but he just doesn't have the experience working on cars, which we cannot give them.
There's no way, in a two year period, we can do that. We have seven cars and if he gets real good on a Park Avenue, I mean, unless he worked to a shop that only had Park Avenues, he would do great. But yeah, so I mean, you can never substitute that hands-on. So yeah, definitely. They're just entry-level techs coming in. And you just, the employers really have to work with them.
Richard Young:
Yeah. And that really though, as an employer, you, there's a lot of talk out there now about growing your own, and those students are the type that you need to grow. You can even bring them into your shop and educate them and possibly put them with a mentor, an older gentleman or someone in the shop, and kind of guide them along.
So yeah, that's, you know, by those … I agree. They both, the gentleman just carrying the toolbox or the one leaving the tech school, they're going to start out at the same spot. But the one leaving the tech school's going to excel through the steps and the experience a little quicker. So yeah, I think you guys are giving them a head start of that. That's great.
John Gardner: 
Yeah, and there's so many. I mean, the industry is so diverse. We do, we'll have, of course we'll have students come in that perhaps maybe will just be a great oil-changer, a detailer, service writer, and that's fine too. And then we have that other 70, 80% of our students leaving out of here that's probably going to be a drivability tech after five years and do great things. But that's the cool part about this industry, is there's so much out there. There's so many different automotive venues that they can select from and choose from, and we just make that aware to them.
So you just got to work close with the dealers. And like you said, these guys, they just have to be patient. I think growing your own is really the only way they're going to be able to do it. I mean, we'll take students, we'll put them out there, we get relationships with these shops. And if you take one of these guys, and one of the biggest downfalls we see is, you know, "Here's the repair order and you're on flat rate. Go get a car and go for it." And it's just, they don't.
I don't know if it's the millennials or just how it works today with all the diversity of students and diversity of people, but they really going to have to just invest six months, maybe three months, give them a salary, maybe a lower salary than they would somebody else, that's fine. But just kind of continue that mentor program, growing their own, put them in the shop, getting that situation down, understanding how it works. And putting them with someone where they could work with and ask questions and be alright, be comfortable. And then I guarantee in six months, they'll be hugely successful.
But if you just throw them to the wolves, "Here's your repair order, flat rate", man, nine times out of ten they'll come back and say, "Oh, this is horrible. I'm not going to make it." And you got to tell them to hang on, they will. But it's a lot easier if they'll do that mentor program.
Richard Young: 
Yeah, I think it's an important piece that you mentioned there. They're all going to, we all started out on a lube rack, let's face it.
John Gardner:             
Yeah.
Richard Young:            
Some excelled above that quicker. But those first couple of years is tough. And you know, so there's, I see some things happening in the way that they're being paid and compensated and even some help with tool purchasing. So yeah, I think the industry's starting to see some things there. How do you, you kind of mentioned it, but the industry, and I want to kind of break that down, not just the shops, but is there a way that the manufacturers, the aftermarket manufacturers can help programs like yours to move forward?
John Gardner:
Sure, I mean, they're doing it. You see the, any kind of online training, any kind of development of curriculum where they can go on there. These instructors, like you said, even at the high school level, I mean, they got these kids for a 55-minute block, you got 30 kids in the class, it's almost impossible to go out in the shop, if we can just the foundations on there.
And any, any, any online training, any … Gates, they do a great job on some of that stuff. And all the different manufacturers, we do Timken here, we'll do the bearings, we'll do this. If you see anything on the internet that they can produce or put on there, and that's okay, even if it's brand-specific, it doesn't make any difference, as long as they're educating on how the product works not just the product itself.
And these kids are looking at some of this aftermarket stuff. They don't want to, two years, they hear you up there and you just like preaching to the choir, but once they hear it or they see it on some kind of different format or learning vehicle like that, it's just a little bit different. It's just, we just got to get them moving, you know?
So if anything, anything the aftermarket can put out there, demos, get involved with the schools, any products they can supply to the schools. The budgets of schooling is just, it's really pathetic and I mean, especially at the high school level, these poor guys are just surviving with whatever they can get from the junkyard on a day-to-day basis. So if they just get involved with any of these programs, they'll see, you know?
I mean, years ago, it was good. Like GM would give a bunch of cars to programs, and that was smart because the kids would get familiar with working on GM car. Well guess where they went when they graduated? You know, work for GM.
Richard Young: 
Yeah. Absolutely.
John Gardner: 
I mean that's where they wanted to go. They were familiar with the car, so that worked out good with the AS program and a lot of GM programs. And Chrysler did the same thing, and Ford did some of that. But that's what the manufacturers need to do, they kind of got to model that, just get involved somehow with some aftermarket training or some way they can put this stuff out there where these kids can access it and get a little certificate if anything else and just go in there and get some training that way.
Richard Young:
Yeah, I know here at Technician.Academy one of our, and as you know, one of our goals is we go into community college programs and teach some basic classes. And it's really not, it's maybe a little more in depth that what the instructor is able to give them in the time period that they have available. But it's a little focused, and it's interesting to watch these students …
In fact, like for our DSO class, we'll actually have, each student will a DSO and I'm creating a waveform for them to pick on that DSO, and it's great to see these students because they are hands-on learners. Once that pattern comes down through there and I instruct them on how to set up the scope and once they get that pattern, it almost becomes a competition between these young people, who can get the pattern in the quickest.
So I mean, that is one thing that I think is extremely important, putting information in front of these students, whether it be online or on site, and being able to get them excited about what the industry actually holds.
John Gardner:
Yeah, yeah. There's so much out there and so many different opportunities and that's the best thing. Usually, you'll get a student that'll come back three or four years if you're at a program long enough, and when he comes back, he'll just, he's all smiles. I mean, there's no doubt about it. The guy's making 30, 40, 50,000 dollars a year and he's just, life is grand.
So it is, it's a great industry. But they don't see that when they first go out there. And then you know, and it's tough to go out there too. I just tell them, "Just keep your mouth shut, keep your head down, and just do your job and do what you got to do" because you know, we're still, you're still stealing money out of somebody's mouth come Friday when there's no cars out there. So it's hard for the shops to be receptive of new people too as well, especially if they're still working on the flat rate system.
But they'll succeed, they'll do good. It's ethics, it's attitude. I mean, these advisory boards come in, the same thing, even if you incorporate some of that stuff like you said, you're sitting there with a DSO in their hands and they're looking at this waveform, yeah, it's a competition, number one. Number two, this instructor probably didn't have any opportunity to do that whatsoever in his class. I mean, maybe they don't even get the oscilloscopes.
But imagine that, like you said, just putting that pattern up there and then the realizing, "Wow, there's live electricity." They already used a DVOM, they understand that concept, so man, to see it like that, the light bulb lights up. So yeah, you think it may be over their heads, but it's pretty cool. It's really neat that you're doing that stuff and that they could see it. And then that's a good way for them to understand it.
Richard Young:
So yeah, I mean, and we talk about keeping, you mentioned it, keep your head down and work, but I seen a statistic just recently that 60% of new technicians entering the field will leave it within the first year. I don't know if, and that's kind of my question is, do you see that in your area? And are they being stolen by manufacturing or other industries? Where's that 60% going?
John Gardner: 
I think, I just tell them, I'm not exactly sure, Richard, but it happens every single time here. And I'll tell them, I'll tell them, "What's going to happen is you're going to spend two years in this program and then you're going to go out to work. In the first three months, you're going to come back cursing me, telling me, "What the heck?", did I sit here in fantasyland and tell them all this stuff. But if you give it six months or a year, you're going to come back in a year and tell me how happy you are."
And that's just it, I think it's a disconnect between the schools and then, like you said, growing your own and the dealers and the industries. With these students today, I mean, it's a different generation. I mean, just a prime example, I could be teaching somebody that's 18-year-old and a 40-year-old sitting side by side in a college class and it's funny to watch because the 16-year-old, he'll get four or five lab sheets. He'll go out to one car, he'll do all four or five lab sheets, and then he'll come put them on the inbox. He's done with them all.
Now the 40-year-old will take them out one at a time, do a lab sheet, complete it, put it in, go get another card, do them one at a time. Now guess what, which one's wrong? Neither, it's just different. It's just a different way they do things and it's a different way they learn. And sometimes the shops, it's hard for them to be a little more flexible and understand that these kids, they do things different. They're maybe on their phone diagnosing. They may be, you know, they just do it a different way and it's like, "Wow, wait a minute. You're not staying on task. You're not doing this."
And if you give them some time, they'll get the job done, or you point them in the direction. But the huge thing is, is like you said, I mean, just if they could sit out there for six months and just use it as like almost a mentoring situation. I mean even a year at a dealership. I tell these guys all the time, "When you go out there, you don't, you're not going to make any money the first year. You're not supposed to." [inaudible 00:22:38] doctors go out there and they got rotations and interns and they got to spend two, four years with doctors and they're not making anything at the time they're doing it.
Well, it's needs to be the same way. These guys needs to get out, instead of the dealership situation and just understand that, "I'm going to hire you, I'm going to give you minimum wage maybe even, but just, this is another year of training. This is really what it is, on-the-job training." And then they would be comfortable and stay. But yeah, they all come back to me after three months, cursing me, "Oh man, what? This is horrible. It's the worst job in the whole world." Yeah, because you got thrown to the wolves and here you are and you're trying to fix cars and guess what? You flagged 21 hours and everybody around you is flagging 40 and you made 200 dollars and you're driving 20 miles to get there and you broke even at the end of the week, but you just have to let them know it's like that for a year. I don't know how to change that. That's a really good question.
Richard Young: 
Well that's, and that's an interesting perspective you bring there, talking about the different age groups and how they operate. And I think, I really think independent dealers and dealerships, independent repair shops and dealerships and even fleet repair, they're just now starting to get their head around that and try to really kind of get a grasp and understanding how these different generations work.
So yeah, I mean that's a great synopsis of how two generations can attack the same problem. Neither one is incorrect, but they're both acquiring the same information and doing it in a way that is successful for them.
John Gardner:
Yeah, it's different. I mean, the kid, he won't come to school Thursday, come back Monday. Say, "What happened Thursday?" "Ah, I just needed a day off." "Wow, okay." I just, we're not used to that. It's like, "What do you mean you just needed a day off?" I don't, "You weren't sick or nothing?" "Nope, just … " "Okay", you know? It's a different breed. It's like, "Wow, alright."
So I mean, me and you, it's like, "Holy mackerel." We had to be dying before we'd not go into work. And now they just, "It's a little overwhelming today. I think I'll take the day off." So it's different. But they can do the job, there's no doubt about it. And they're brilliant when they do it, so. It's just, they're just going to have to nurse them along and baby them just a little bit more than they have in the past.
Richard Young: 
So yeah, I mean, that's great discussion, that. So, Velocity. Motorhead Garage. Tech Garage. What drives a college instructor to step off into that?
John Gardner:
Yeah, exactly. That's a good question. Actually just, yeah, it's happenstance. I mean, it's, we were doing training videos for different corporations, a lot of them right here at the college. And some people had seen the training videos, I guess, and then Master's Entertainment, Velocity, they come about four or five years and said, "Hey, we want to try an educational show." And everybody in their, in the world said, "That's a flop. You kidding me? I mean, no fire, no sparks, no yelling, no cursing, no wrench throwing? I mean, that's got to be the most boring show in the world."
And you know? It is. But, holy mackerel, I mean it just, they come in here, we did what we do on a college show. You were here, it was incredible. You did your fuel system. And you didn't sit there, Richard, you didn't sell a product. What you did is you told it how it worked and you told us some pitfalls and you told us, it's how important it is to clean the tank before you put a new pump in just because of room in the tanks.
Now, I mean, sure, there's a motive. You don't want to have a bunch of warranties on your pumps, but the other hand, the customer don't want to drop his tank six times. So all of a sudden, this educational show, it's like, "Wow. Here it comes." All of a sudden the numbers were, we were 56% up higher on our second season then people started to realize, "This is pretty cool." So we're not getting that high wage, high stakes, high demand television show. But what we're getting is, we're getting a core audience that just wants to learn how to fix their car and what wants to go on, see what's going on.
I mean, you still have that, you have that guy that's just afraid to change the oil today. I mean, that's what it is, he doesn't even know how to do the dipstick. And it's offensive to him because he's been doing it for years. So we can just break it down and take that college education right on film and do a 30-minute show. And we do some neat stuff too, but we try to keep it to the roots. I mean we, the cool part about that Tech Garage is our co-host, Brian Gregory.
Now he's an avid do-it-yourselfer, which is really cool. And then here I am, the college instructor. So I mean, when we write and we script this stuff, I may get into some stuff and he'll just, he'll come over and smack me, you know, now, just, you know. "No, I didn't understand a word you said." So we just bring it down another level and bring it down another level and finally he's like, "Okay, I got it."
Then when he gets it and then he goes over to the car and he's doing the repair, it's pretty cool because we just relate to that everyday car guy. And what we found out is there's just so many of them out there and we got such a huge following that it just, it's become hugely successful. So it was just happenstance. They took a gamble on it. We just, we shot it. I'm no way, shape, and form an actor and just, I just do what I do. I love teaching and it comes off on film. And we got Brian Gregory on there now and he just does what he loves to do and fix cars.
So it's just two guys doing what they love to do, and that comes off on the camera, it comes off exactly what we do. We love it so much that people are engaged and it's just, it's fun. It's an awesome show, man. It's, airs at 8:30 on Sunday mornings on Velocity. And it's so much fun to do and it's so much fun to watch. And then the feedback is incredible that we get. So just basically by happenstance, man.
Richard Young:
Yeah, I mean … So how long have we, how long has the program been going now?
John Gardner:
Yeah, five years, we're going on season five. We would've never even thought it. It's crazy.
Richard Young: 
Wow.
John Gardner:
We, yeah, I started here by myself and that's, I think, the first season maybe was the one you were on. And we just, we did a lot of just introduction stuff and simple stuff and you know. And you were on there for a whole segment and you taught and educated exactly what you did. And that comes off so well and that's exactly what we just saw, the feedback of that.
And then season two, we brought in Brian Gregory, which is do-it-yourself, and we started to look at a different avenue of he starts turning the wrenches and I'll teach on it and we just go back and forth with, "Here's how it works." And he puts it on and shows you how to do it. And it's like, "Wow." We just, we get comments all the time, "Hey, this is a great show. No fluff. We're tired of this, we're tired of that, we're tired of all this drama. I love to watch this because you're fixing my car."
And you know, we'll go into a trouble code and sometimes I'm thinking to myself, "Holy mackerel, this flowchart, meters, this is a little much." And then, man, we'll get 10 emails, 30 emails, "This is the greatest thing in the world. I just didn't know how to chase the code, and this and that." I'm like, "Wow." So we can't do too simple. We can do how to buy a used car with some fluids and we do the variable valve timing with the cam phasers and everything. So we build from one aspect to the other. But it's, it worked. It worked, and we're surprised it worked, I'll tell you that.
Richard Young:
Well yeah, and that's one thing I will say about the program is the basic, I don't want to use the word basic, but you do break it down to where maybe it's not as interesting, all episodes aren't as interesting to the professional technician, but-
John Gardner: 
Right.
Richard Young:            
The do-it-yourself, the heavy do-it-yourselfer, the one who wants to do all they can to his vehicle and his family's fleet of vehicles, usually, you [inaudible 00:29:56], you're able to break that down and get it to a point where they can digest it and then apply it to their vehicle. And I think that's extremely important.
What, I mean, I'm sure you've got some sponsorships, some help there. Obviously, you can't fund the program yourself, but, so you've had some corporate help. Is that correct?
John Gardner: 
Yeah, absolutely. Yeah, it was Advance Auto Parts for seasons one through three and then RockAuto's now for season four. And just both of those sponsors, I mean, the people that get involved, it's amazing because the cool part about it is, is we're not taking this Dasani water and driving it down your throat the whole show. It's, "Dasani Water, Dasani Water, Dasani Water." We don't have to do that.
What this industry found out through the television show is, "Hey, if we just educate on how this system works, the parts will sell themselves." And they did. They had a huge influx on sales and it impacted them hugely. And we never even had to sit there and brand anything, which is really cool because some of the shows out there, they're just half an hour sales pitch for every product as they come through.
And even Motorhead Garage is a little bit that way, but the Tech Garage is strictly just an educational show. And both of those industry sponsors just let us do our thing and then they reap the benefits on the backend just by, "Hey, everybody understood how they work. They got a lesson for free. They were real, they wanted to go and shop at Rockauto.com and get some of those products because now they know how they work and they know how to put them on there." And they were loyal, they were real loyal. They're like, "Hey, you just gave us a whole education on it. You didn't sit here and say, "Dasani Water", 35 times. That's cool. I'll just go to RockAuto, order this part or get it Advance", or whatever it may be. O'Reilly's. It doesn't make any difference.
It was cool. That was another thing, we never knew that if we just educate on it, the parts will sell themselves. And boy, did they ever.
Richard Young:
Yeah, absolutely. I mean, people appreciate, I mean, you're devoting time to the car owner. You're devoting an education to the car owner that's viewing that and they're appreciative of that. And they'll, now you'll see that through their purchases. So there's a little bit of difference between Tech Garage and Motorhead Garage. Tell the listeners what the difference is.
John Gardner: 
Yeah, Tech Garage is just basically my baby. I mean, I get to write it, script it, cars, the whole nine yards. And when we go through Tech Garage, it's educational, cut-aways, tools. We do a whole job, basically a whole show and we got a project vehicle on it. Motorhead Garage, on the other hand, is just some real cool new products out there in the industry and stuff. And we do that on location. We film that in Johnson City, Tennessee as the studios at [inaudible 00:32:43].
And we do it on location. So we just, Motorhead Garage, and Brian Lohnes is phenomenal. He's the co-host. He's an NHRA announcer and he's got a couple shows called "Put Up and Shut Up" and he's the co-host for that thing. And this guy, I've never met anybody in my life that knows more about cars than he does. It's crazy, I mean, that's been his life since a little kid and now he's just, he's living the dream, man. He's an NHRA announcer, he's bang shift, he's got all kinds of different websites and he's got a couple television shows.
So he comes in and just gives it a whole new aspect. I mean, we look at concept cars, we go to SEMA, we do the SEMA show down there with Motorhead Garage. We'll look at some cool industries. We get to go do some different stuff like that, not just one thing for the show. We're not going to take a car and repair it from top to bottom like Tech Garage. We may look at four different things and four different technology and four different items that are out there, industry stuff, new stuff, old stuff, everything.
So just kind of a mish-mosh of everything. Whereas Tech Garage is just one repair throughout and a lot of cut-aways and a lot of education.
Richard Young:            
So do you see that, I mean, if you, through the research, do you see that the viewers are basically the same group of viewers? Or is it two different groups possibly?
John Gardner:
Yeah, it's probably two different groups. I mean, our Tech Garage was shockingly, probably 30 to 60, 70-year-old people. I mean, you know, just guys that are want to get back out there and work on their cars and do stuff and have that education. Motorhead Garage, probably about the same audience but you got a lot of younger guys doing, we do different things on there. It just depends on the show and what the products are going to be on there and what's coming on.
We did, I just got through with racing at Charlotte Motor Speedway. It was phenomenal. We did a thing with Innovation Performance Technologies and their new S-Model chassis they're building into a Mustang, and that would be real interesting for kids because we got to race it. And then we'll look at the chassis and look at the design and everything on the car. And then, on the other hand, we may just put a Borla exhaust system on, which is cool, you know, Corvette systems, different things like that.
And then we'll have some campers or RVs or something, just depends on the products and what they're bringing in there at the time. Our core audience for Tech Garage is just kind of, "Bam, that's it." It's the same people, just the guys that just ready to sit down Sunday with their coffee and learn a little bit about their car.
Richard Young: 
And that's one of the things, I just, I seen the social post of where you was off on site there, and that, you know, that's great that you're providing that group of information. Like you say, I mean, that could interest or may ignite a young person into this industry, so I commend you for that. That's great. And it is exciting to see how it's grown over the years, I'm really excited. And you do a great job. I mean, you really do. I think that you're well-received by your viewers and I commend you on that.
So let's step back a little bit, back to the community college or the college instructor role, and we talk about career paths for these students, is it likely that a student could come through your program and move through the industry and be in a situation where you're at? I mean, how hard is that for a student to actually, would that be for a student to accomplish? Being, becoming a television host.
John Gardner:
Yeah, well I mean, I don't, I just, I don't think there's any limit. I mean, I'm living proof of it. I mean, I turned wrenches, that's what I did. I probably started in a school where I got fortunate enough to go through the ASEP school. But back 30 years ago, you just carried a toolbox in and you worked in a shop. I mean, is that what you did, Richard?
Richard Young:
Oh yeah, yeah. That's, well and I was working on neighborhood vehicles because there was very limited repair shops in the area and I don't really know how they figured I could fix a vehicle, but I started getting local people bringing their vehicle to me. So yeah, it's kind of … And then I thought, "Well, I didn't go to college." And so I did. And it's very similar to what you're talking about.
But these students now, today, they've got two or three steps on what I had then.
John Gardner: 
Yeah, oh absolutely. And that's what I'm saying. I mean, it's limitless. You did what you did and now you're a personality as well. I mean, you're doing great things with this industry and you come down here, you were on the show, you're representing different organizations, and now you're sitting there addressing these issues on a worldwide basis.
So it's limitless. I tell these guys all the time, you know? And see the cool part is, Tech Garage is filmed right here at the college, so they get to be involved in it so they see all this stuff. They see the prep that goes into the cars and they see this stuff, and then they get to see the production, and then, of course, we integrate the shows into the curriculum. So they get to watch the finished product in the show.
So, could they do it? Oh, absolutely could they do it. No problem whatsoever. I mean, it's just, I think anybody can do it. I just, I'm doing what I love. You're doing what you love. And it comes off good because that's exactly what you love to do. The TV show's nothing more than me teaching and that's what I do. So I think they can do that and I think it's limitless. They can do anything they want to do. I mean, I tell these guys all the time, "You can own and run the dealership. You just got to give it that time."
We go back to that time and just get over that hump of … I always tell them, it's usually, it averages about seven years, they turn wrenches for about seven years and then they're moving on. They're just, I seen a lot of the students now that I've been here 20 years, after seven years, become service writers, service directors, and just move up the ladder, corporate trainers and different things like that.
So the educational background's there. Can they do it? It's up to them, man, it's limitless.
Richard Young: 
Absolutely. Yeah, I agree. And I think that that's key to, especially this younger generation, to let them see that there's something beyond the bay. I think that's important for today's student to see and understand that it's possible. And it relies totally on their end, but it's not given to them. I mean, they have to work for it, but it is there and it is available.
It is interesting that, you know, the thought that one of your students could come back and be the next John Gardner in 10, 15 years. So that's exciting.
John Gardner: 
Yeah. Yeah. I mean, I just, I remember going through class and we would watch Shadetree Mechanic with Sam and Dave. And it's almost, the show's almost exactly the same style, it's amazing. But just watching them and learning from them. I mean, you can learn from them. So that's pretty cool. And I think so, I think they'll be a Richard and a John, they'll be taking our spot in no time. I mean, they're that quick, they're that good.
Richard Young: 
That's good. That's good. So, John, we've discussed and then brought out some great topics. And, but if I was to be able to get you in front of a group of, let's say 8th grade, freshman students and you had limitless time to talk to them, what would be the topic of that keynote speech that you would give them?
John Gardner:
Oh man, that would be high wage, high demand. I mean, it's just, you know, I would look them in the eyes and just say, "It takes the brain smarts to keep up your academics and doing what you're doing." I mean, there's a huge shift in this industry. It's not what you think it was. Everybody thinks of auto mechanics, you know, and it's now automotive technology. And you hit the nail on the head when you said the technology's there and these shops are looking for the diagnostic people.
So I would just tell them to make sure they get that brain smarts. That's what the industry's looking for. Fight hard for the academics, do the best that you can, and then look at your career choices. It doesn't have to be automotive, but everybody's not going to be an attorney, a doctor, and a lawyer, unfortunately. So, you know, or fortunately, really. Not, unfortunately, excuse me. I mean, it's a great industry. So no matter what it is, if they're, you know, the plumbing or carpentry or all these stuff right now is just, these guys are making 70, 80,000 dollars. I just don't think people realize that.
So once we show them that it's a high wage, high demand industry and what's going on out there and show them some maybe career choice films with something going on with scan tools, something going on with the shops, and take them out. You know, if we can take them on field trips to the shop, themselves, and see the difference in what's going on in some of these shops with the tile floors and air-conditioned base. It's not that way all the way around, but shops are starting to understand, if we can keep everybody comfortable, they're more productive.
So it's just a huge change. I don't think they realize and the counselors themselves don't realize this is what it is and it's an awesome, awesome career.
Richard Young:
Yeah, I agree. I had the fortunality to present a keynote speech to a group of college instructors here recently. And that was a discussion. I mean, the title of the speech was "If everyone was a rocket scientist, no one could turn the lights on at NASA." And I broke that down-
John Gardner: 
That's a good one.
Richard Young:
Really, you mentioned it, we're fortunate that not everyone is a doctor or a lawyer. Or you know, a scientist, because, I mean, this industry is in need, and you're right, it is a high demand, high pay position. So yeah, I agree. And it would be good words, I'd like to get you in front of every 8th grader and freshman out there, to bring that to them.
So we've talked. We've had a relationship in the past. We have discussed and have kept in touch and it's been great to see how things have progressed for you and for the college. And I've used up some of your time here and I appreciate that. But if, I mean, there's a couple things I want the listeners to hear. I want to hear, you know, if John Gardner has any hobbies other than automotive.
John Gardner: 
I do, man. I cherish my family time. I know, "Oh gosh, here comes this guy. He's a sap." But no, I just, we go out, we go traveling. We go here, there, just you know, the movies and hang out. I just, there's not a bunch. I'm not a golfer, I'm not an avid fisherman. I just, I do a little bit of everything. But just, to spend time with the family, go on some trips, hang out, and just downtime.
It's nice now, especially shooting some of these shows on location. I'll spend more money than I make. I'll just drag them all along. [inaudible 00:43:05] go shoot at SEMA, I bring them all to Vegas and we just hang out and have a great time. There's all kinds of things to do. Went and saw the Grand Canyon and stuff like that. So it presented a lot of other opportunities, you know, kind of where my hobbies lie, that I never thought I could do before, just because of that.
So it all works out pretty good. But definitely just love my family time.
Richard Young:
See, and I believe that. I mean, just in what I see you in social posts and then meeting you personally, I truly believe that.
So if John Gardner had an open spot in his garage, what would be his favorite vehicle to put in it?
John Gardner:
Man, I'll tell you, I got, for season five, I got a '14 Cadillac CTS V. Never driven nothing like that in my life. Absolutely craziest car in the world. I'm starting to fall in love with it. But I'll tell you my favorite car, and it's embarrassing as all get out, it's a 1990 IROC Camaro, man. I had one when I was a kid. It was black. Man, I just loved that car. You know, the old tube-port 350.
Only problem is, the things got about 180 horsepower and you couldn't ever get it in a stick shift because GM didn't make a stick shift that would go behind that thing. It was terrible. It was the worst car on the planet. But I just personally loved those old IROC Camaros, man. The Mustangs would leave us in the dust, but just loved the car. Had one, owned it. Gosh, I would open the headers and go down the track and go slower than if I would've left them on. But I was having a good time.
Richard Young: 
Absolutely. Absolutely. We all have those type of cars, I mean, that's-
John Gardner: 
Yep.
Richard Young: 
That's just our personalities, so yeah.
Well, John, I, like I said, I appreciate you taking time out of schedule. I want to be sure that the listeners get, watch an episode or two or three or ten of Motorhead Garage and Tech Garage. I think you're doing some great things there. And I hope the students continue to flow into your facility. I think they're getting a quality education. I mean, you guys bring some quality to their life and improving the industry in that area. So I appreciate that and thankful for that.
So yeah, I appreciate your time.
John Gardner: 
Yeah, well thank you for all the great wishes. And I sure appreciate everything you're doing too, man. This is good stuff. If we can just get the word out there. I mean, like I said, if I could just leave it with please, get involved with the educational programs if you're industry, listening right now.
Allow those students to mentor and shadow at your shop for a while. And be patient, be understanding of the diversity of what's going on with today's technicians. If you have to pay them a little bit for a while, I think the key word there through this whole conversation was just mentor up your own. If you put them in the shop and give them a shot, they'll succeed, I can guarantee you that. They'll do you a really good job.
And that's huge. I mean, that's my love, that's my passion. These guys come back three or four years from now, with a smile on my face, and that keeps me doing what I'm doing. So yeah, thank you so much for having me and thanks for the time and I'm grateful to all your listeners. And it's awesome, man. This is an awesome podcast. And this is good, this is good to get that out there. So thank you, Richard.
Richard Young:
Absolutely. Well I thank you, John. And until, you know, if I'm in Florida or you're in Midwest, let me know and we'll get together. But if not, we may see each other at SEMA.
John Gardner: 
Yeah, yeah, yeah. We will hook up again, for sure. It was great having you here and you did a phenomenal job on the show. So heck, I'll get something written in there and I'll make it happen.
Richard Young:
I'm sure. Alright, well, until next time, John.
John Gardner: 
Awesome. Thanks, Richard. Take care, everybody. Bye-bye.
Want More Episodes?
Be sure to subscribe to Technician.Academy podcast on iTunes, Google Play, and Stitcher to listen to all episodes.